The SWING PIT is no longer in operation.

Thanks to entrepreneurs Tip West and "Sailor" Mike Mizgalski, the greater Los Angeles area now has a popular Thursday night venue for swing dancing that looks to be around for a while.

Although other venues provide an opportunity for dancing on Thursday such as the Derby in Hollywood and Memories in Anaheim, Tip and Mike have managed to put together all the elements for a successful operation

that is more than competitive with the others. Although the Derby has an inexpensive cover charge and live bands, the quality of the bands is uneven and no one is sure what dancers will show up on any given

Thursday night. Memories, which is situated in northeast Anaheim, is a stretch distance-wise for many.

HERE ARE THE THINGS WHICH HAVE MADE THE RECENT WEDNESDAY NIGHT SWING DANCING AT DOMENICO'S A SUCCESS:

1. Location --- Pasadena is centrally located and is about a half-hour's drive from most other cities in Los Angeles County. Also, there are more swing instructors in Pasadena and surrounding cities than in any

other area in Southern California. Students from Thursday night dance classes in the area can make a beeline after classes to Domenico's and be there within minutes.

2. Support from a core group of very good swing dancers --- many are swing dance instructors

3. Support from a large group of dancers who cover a broad age range including a few highly respected older dancers from the first era of swing

4. A fun atmosphere that includes contests and chances to win prizes

5. An inexpensive cover charge --- $5 for DJ music; slightly more for live bands

6. A very good selection of DJ swing dance music --- a nice balance of older and newer swing tunes

7. Early evening dance classes by the most respected swing dancers in Southern California

UNFORTUNATELY, NOT EVERYTHNG IS PERFECT:

1. The restrooms are a hike

2. Free parking may be difficult if there is something going on at the nearby Pasadena Senior Center

3. Off-street parking costs $6 ($5 in the Parsons parking lot)

4. The dance floor is not very large

5. Since Thursday is a weekday, many dancers leave shortly after 11:00 p.m.

Written by Gene Hashiguchi - A.K.A. Breezyknees  I'd like to thank Gene for taking time out of his busy schedule to contribute to DANCINGLA by writing this review.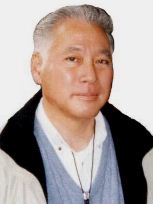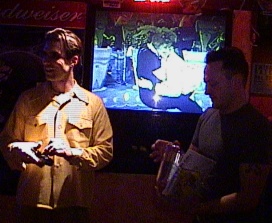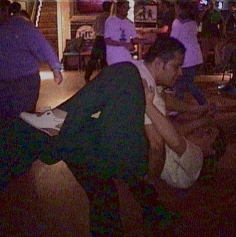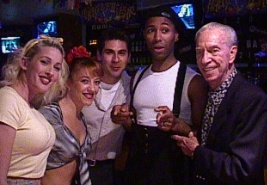 FOR THE FUTURE, TIP AND MIKE SAID THE FOLLOWING WOULD HAPPEN:

1. The Domenico's management will increase the dance floor space by moving the south wall to the building perimeter and by extending the floor to the back of the building by getting rid of the stage area

2. The management will also raise the ceiling to make the room feel larger

3. Only decent dance bands will be scheduled, otherwise they will go with DJ music

4. When the weather improves, dancing will also take place outdoors in the area behind the restaurant

Others have tried having a Thursday swing night in Pasadena. Why are Tip and Mike more successful?

Last year Marcus Koch and Baerbl Kaufer started a series of swing classes followed by swing dancing at the Green Hotel. They even provided food and beverages as part of the $5 cover charge. I believe what did them in was the rather narrow dance floor that discouraged a lot of dancers from attending --- especially the good swing dancers. Although there were a number of regular patrons, there were not enough of them.

Right before Tip and Mike started their swing night, Domenico's management, The Hot House 5, and The Jumpin' Joz Band started a Thursday swing night also at the same Domenico's venue. The cover charge was a

miniscule $2. For lack of proper promotion, there were all of nine persons at opening night --- three couples and 3 single gentlemen. How do I know? My wife and I were one of the three couples. The attendance

never improved and the venture died.

By comparison, Tip and Mike had the venue packed on their opening night through personal contact with friends in the local swing community and by word of mouth. Many of the swing dance instructors in Southern

California were present including Flying Lindy Hoppers Tammy and Terry all the way from Ventura, David Frutos and Kim Clever from the Paladino's in Reseda, and the rarely seen Erik and Sylvia Robison. Also in the house were celebrity dancers Ryan Francois and Jenny Thomas.

The lesson from the two efforts at swing night at Domenico's is that unless you are very well connected in the swing community you can forget about any chance of success in starting up a new venue. Failed efforts due to that reason that I recall very well include The Brave Bull in San Gabriel and The Arroyo Restaurant in Arcadia. Both of these venues have facilities that are vastly superior to Domenico's, yet the owners/managements had no real connection to the local swing scene.

We wish Tip and Mike well in their venture. They have done much to keep the local swing scene alive and robust. It is only fitting that they be rewarded for their efforts.